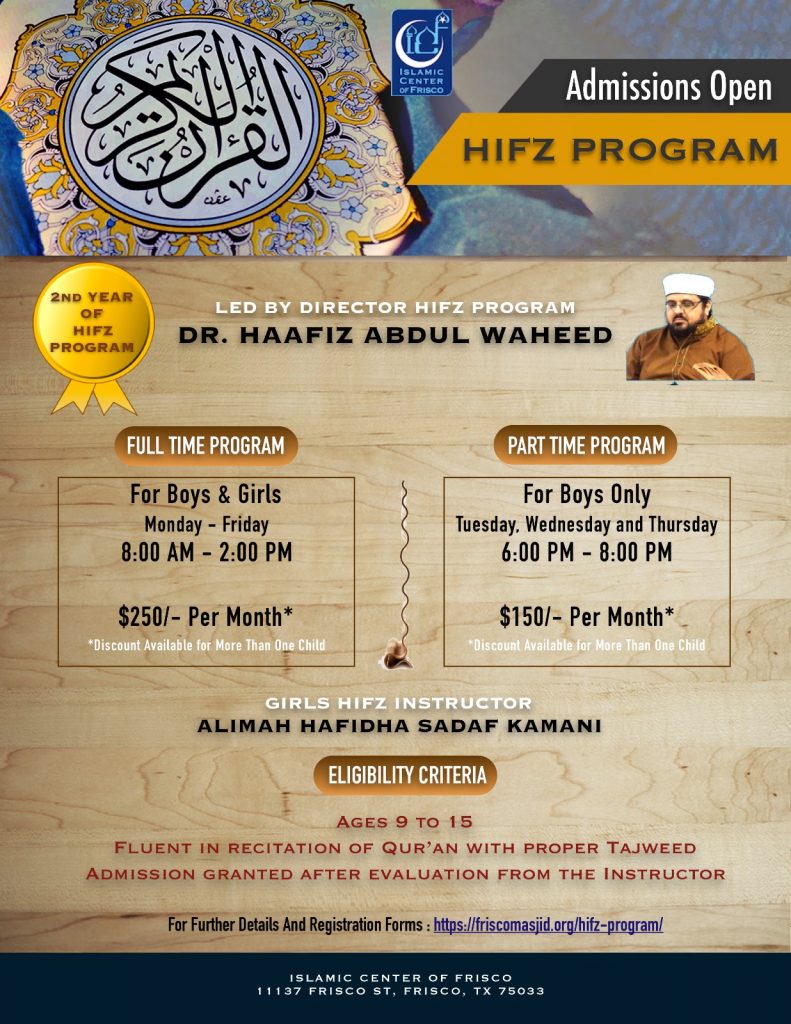 Hifz Committee
Under the Shura guidance, the Hifz Committee is dedicated to support Hifz program. Increase involvement and awareness in regards to Hifz program in the community.
Purpose/Charter
Facilitating the logistics for a Hifz program (Planning, Budgeting, Marketing, Fee Collection, Enrollment, Dis-enrollment, Graduation, etc)
Making sure that Instructor for Hifz program gets the support he needs to effectively run the program.
Making sure that this program is financially viable for ICF, assess future growth and needs.
Committee Members
| | |
| --- | --- |
| Khalil Hamze | Lead |
| Izzat Khan | Co-Lead |
| | |
Boys Instructor: Dr. Hafiz Abdul Waheed
Full time Hifdh for Boys: Timings Monday to friday 8 am to 2 pm
Part Time hifdh for Boys: Tuesday, Friday and Saturday 5:30 to 8 pm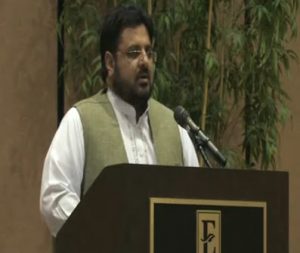 About the Boys Instructor:
Dr. Hafiz Abdul Waheed Awan, the son of a great Sheikh-ul-Hadeeth Molana Abdul Haleem, was born in Okara, Pakistan in December 1964. After becoming a Hafidh-ul-Quran at the age of 10, he graduated from Jamia Muhammadia Okara, Pakistan and earned his Darse Nizammi and Wifaqul Madaaris degrees at the age of 16.
In 1986, Dr. Abdul Waheed became an Honors Graduate from the International Islamic University Islambad, Pakistan majoring in Kulliah Usuluddin (Islamic Studies Qiraat). He completed his Masters from the same University in Tafseer and Hadeeth in 1990. The Islamia University Bahawalpur, Pakistan awarded him with The Doctorates degree in Hadeeth in 2010.
Dr. Hafiz Abdul Waheed served as a lecturer in Islamic Studies at the Govt. College of Commerce Rawalpindi, Pakistan from 1989 to 2004. He was also a research scholar for the Dawah Academy at the International Islamic University Islamabad, Pakistan from 1992 to 1996. In the US, Dr. Waheed served as a Senior Quranic Teacher at the IACC Plano in Texas, USA from 2004 to 2012. Currently, Dr. Waheed is the Director of Abdul Haleem Quranic Institute.
Girls Instructor: Alimah Hafidha Sadaf Mubeen Kamani
Full time Hifdh for Girls: Timings Monday to Friday 8 am to 2 pm
About the Girls Instructor:
Fully-trained and authorized Islamic Scholar
Hafizah of the Holy Quran
Experienced educator of Islamic sciences and Quran to women and children of all ages.
Excellent communication and interpersonal skills.
Education:
Jamia Islahul Banaat, Mumbai, India – Alimah Degree
Authorization (Ijazah) in the Islamic Sciences not limited to but including: Tafseer of the Holy Quran, Hadith, Fiqh, Arabic
Madrasa Jamia Hamidia, Gujurat, India – Advanced Arabic Program
Suffah Educational Institute (Qari Abdul Mannan), Chicago – Memorization of the Holy Quran