Good Cooking, Good Looking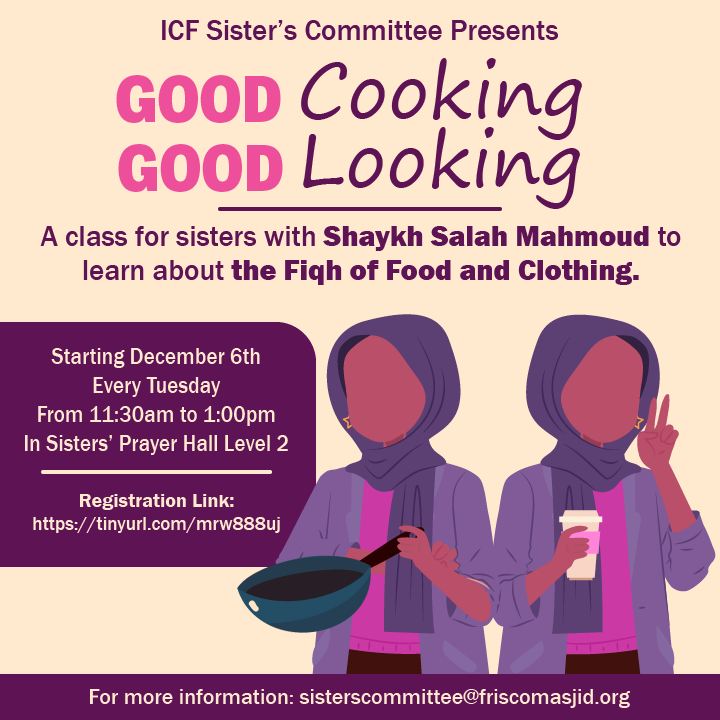 GOOD COOKING, GOOD LOOKING
WEEKLY SISTERS CLASS BEGINNING ON
TUESDAY, DECEMBER 6 @ 11:30 AM
---
Join the weekly sister's class with Shaykh Salah Mahmoud to learn about the Fiqh of Food and Clothing. This will be a six-week course and will include in-depth study and discussions on:

• What makes meat halal
• The ruling of using wine, vinegar, and alcohol in cooking
• Chemical changes in food and its impact
• The rulings of using gelatin and rennet
• The Qur'an foods and sunnah diets.
• Discuss opinions on meat of the people of the book
• Women clothing: Burqini, swimsuit etc.
• The definition of A'wrah in different situations
• The difference between Hijab,Khimar and Niqab
• The Fiqh of Cosmetics and makeup.
• The concept of Tashabbuh.
Event Information
| | |
| --- | --- |
| Event Date | 12-06-2022 11:30 am |
| Event End Date | 12-06-2022 1:00 pm |
| Cut off date | 12-12-2022 |
| Location | Islamic Center of Frisco |
We are no longer accepting registration for this event